Study Circles - Get Inspired in a Program for Community Improvement and Transformation!

A systematic approach to studying the Bahá'í writings that inspires an attitude of service

The global Bahá'í Community has adopted a systematic approach to studying the Bahá'í Writings through Ruhi Institute programs designed to help community members and friends of the Faith to better appreciate the fundamental principles of the Bahá'í Faith.


The goal of this type study is to not only gain a deeper understanding of the Scriptural Word of God and its many meanings, but to then find ways to apply

t

hese

spiritual insights to

acts of service

towards others, and to improve communities in the process.


Study circles are a place to develop skills, abilities and learn how to teach and serve others. They are a place where participants develop human resources, friendships, and a means to empower one another. They are as a means to build better communities and a better world.

How Do They Work?





All Study Circles have 3 components: Group Study, Socializing, and Community Service. A small number of participants (usually 6 to 12) come together and work with a facilitator using the materials developed as part of the curriculum.

The role of the facilitator is not to impart knowledge. Rather, it is to facilitate discussion with co-operative and active participation methods. Individuals study various writings, engage in group discussion, and participate in a variety of practical exercises. The pace and frequency of the study sessions is determined by the participants.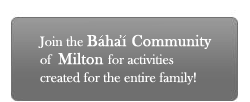 Join a Study Circle Today!

Anyone is welcome to join a Bahá'í Study Circle, regardless of their ideas, beliefs, religious affiliation, or cultural background. Study Circles
are underway every week.


For more information or

to find a study circle in your neighbourhood

contact us (information below).