Contact us to get more information about the Baha'i Faith or about our activities and events open to all, please eMail info@miltonbahais.org
For information specific to our annual World Religion Day event, please eMail wrd@miltonbahais.org
To contact a community member, our community's administrative body (the Spiritual Assembly of the Baha'is of Milton), or any of its committees or officials, please eMail
lsa@miltonbahais.org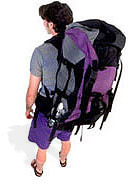 Are You New to Our Community?
If you are joining us for the first time please contact the Spiritual
A
ssembly so your name can be included on our community eMail listserve. You will receive our community newsletter, information about service opportunities, and updates
on all
the events and activities for our community and cluster.
Find Bahá'ís in Your Area




Locate Bahá'í communities throughout Canada and around the world!

Visit the Bahá'í Community of Canada website to find Bahá'í communities in your area of Canada or locate Bahá'í communities internationally at Bahai.org. (See links below

)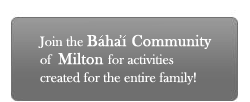 Devotional Gatherings

Discussion Groups

Fireside Chats

Holy Days

Study Circles
People With Special Needs
I
nformation is available for those with vision or hearing impairments
. Contact us for details.