Information - Find Out More About What it Means to Be a Bahá'í!
Contact us for free literature on the

Bahá'í

Faith or information about the Milton

Bahá'í

Community.
Building a unified and peaceful global community is at the heart of what it means to be a Bahá'í and is what animates all our activities. If you want to find out more about the Bahá'í

F

aith and / or the

Milton

Bahá'í Community, these options are available to you:

1)

eMail:

info@miltonbahais.org

to get free literature or information on activities in our community.

Introductory literature is available in other languages including: Arabic, Chinese, French, German, Italian, Polish, Russian, Spanish and many others.
2

)

Visit Bahá'í Topics

on the Web

Visit www.bahai.org - the official

web

information resource site presenting topics on the Bahá'í Faith: Historical Figures, Spiritual Principles, Sacred Scripture, the Bahá'í Global Community, social and economic

development

, etc.
3) Phone: 905-878-1387

For those who have questions about the Bahá'í Faith they wish to discuss

one-on-one, in the convenience of their own homes,

or with their
own
group, Milton Baha'is can arrange a home visit, or introductory talk to present basic Bahá'í teachings, drop off introductory literature, and /or answer any questions
. (more)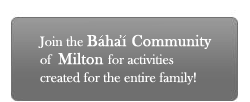 Devotional Gatherings

Discussion Groups

Fireside Chats

Holy Days

Study Groups

World Religion Day
World Religion Day 2018 will be held at the central branch of the Burlington Public Library in January, 2018. More details we be posted closer to the event.

The Promise of World Peace

At this critical time, when problems confronting nations have been fused into one common concern for the whole world, Bahá'ís say world peace is not only possible but inevitable. - View Document

Introductory Statements
Click on the links below to view a broad range of introductory statements from the Bahá'í International Community.