The

Bahá'í

Community of Milton, Ontario is part of a larger regional, national & global community established in more than 330 countries and major
territories
around the world.
(more)
DIVERSITY is a Strength
UNITY is a Choice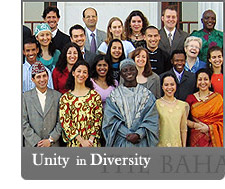 We invite you to join us for a range of events and activities that are designed to entertain and inform, to enrich and inspire, to educate and enlighten.

Discover what gives Bahá'ís hope in an age when humanity still struggles to embrace its fundamental unity. (more)
Education Programs that promote virtues, encourage service to others, and develop a global consciousness.
Rejuvenate the soul and nurture the spirit with devotional gatherings that explore the power of Scripture.
Fireside Chats & Discussion Groups
Independent Investigation of Truth is a primary Baha'i principle as there are no clergy in the Baha'i Faith. We invite you to examine the Bahá'í teachings on topics that interest you and discover their relevance to your world.
Share with us the celebration and commemoration of special events in the
history of our Faith and our community.
Get engaged in a "Ruhi" group study program designed to enhance personal and community transformation.
Learn what World Religions have in common like the Golden Rule. Since 1950, Baha'i communities around the world have hosted World Religion Day in January. In Halton, this event is rotated annually between the local municipalities in the region.