Devotional Gatherings - Exploring the Power of the Sacred Word
Embracing an attitude of prayer and meditation common to all faiths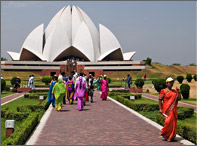 Bahá'í Houses of Worship are on every continent (the temple in Delhi, India is at left + the one in Chicago, USA at lower right), but most Baha'is worship in gatherings at their homes or at public venues. This happens in hundreds of communities across Canada, and around the globe where friends and neighbours are invited to participate in the spirit of harmony and oneness.

These gatherings are open to all and are intended to embrace that attitude of prayer and devotion that is universal to all religions and all people seeking spiritual solace. Participants can be passive by listening and enjoying the spiritual atmosphere, or choose to be engaged by chanting, reading or reciting meditations, prayers or readings.


Devotionals are prepared using prayers and meditations from Bahá'í Scripture and from the Scriptures of other world religions. Artistic presentations and music are often a part of these festivities which usually include refreshments and a social time. The Sacred Books of all world religions are honoured and people of all faiths are welcome.
. . . From the Bahá'í Writings
A Prayer for Children

O Thou kind Lord! These lovely children are the handiwork of the fingers of Thy might and the wondrous signs of Thy greatness. O God! Protect these children, graciously assist them to be educated and enable them to render service to the world of humanity. O God! These children are pearls, cause them to be nurtured within the shell of Thy loving-kindness. Thou art the Bountiful, the All-Loving.

A Prayer for Healing

Thy name is my healing, O my God, and remembrance of Thee is my remedy. Nearness to Thee is my hope, and love for Thee is my companion. Thy mercy to be is my healing and my succor in both this world and the world to come. Thou, verily, art the All-Bountiful, the All-Knowing, the All-Wise.

A Prayer for Humanity
O Lord God! Make us as waves of the sea, as flowers of the garden, united, agreed through the bounties of Thy love. O Lord! Dilate the breasts through the signs of Thy oneness, and make all mankind as stars shining from the same height of glory, as perfect fruits growing upon Thy tree of life. Verily, Thou art the Almighty, the Self-Subsistent, the Giver, the Forgiving, the Pardoner, the Omniscient, the One Creator.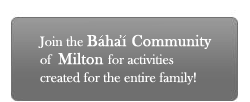 Children's Classes

Devotional Gatherings

Discussion Groups

Fireside Chats

Holy Days

Study Groups

Youth Empowerment

World Religion Day
Bahá'í Houses of Worship are open to everyone and dedicated to the oneness of God, the oneness of His Manifestations and the oneness of Mankind.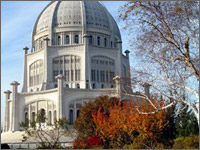 Above - The first Bahá'í House of Worship on the North American Continent, Wilmette, Illinois, USA.

Above Left - The First Bahá'í House of Worship on the Indian Continent in New Delhi, India .