Fireside Chats / Discussion Groups - Sharing the Basic Teachings of a New Revelation
Explore the Bahá'í writings and their relevance in creating a peaceful and prosperous global community.
Firesides

Firesides provide an opportunity to explore, in a casual setting, the Bahá'í Writings on a particular theme. They are often held in Bahá'í homes but can be conducted anywhere convenient to participants.

A topic of interest is selected and everyone is invited to share their thoughts, their views and ask any questions they might have. Discussion is always quite lively and thought provoking! Firesides are often followed by refreshments and a social.
Home Visits
For those who have questions about the Bahá'í Faith they wish to discuss in their own setting, one-on-one, or in the convenience of their own homes, a home visit can be arranged.

A representative from the Bahá'í community will visit you, your family, or group and present basic Bahá'í teachings, drop off introductory literature, and answer any questions individuals may have.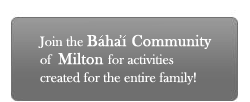 Introductory Topics
Click on

the links below to view basic

Bahá'í

t

eachings and introductory statements from the

Bahá'í

International Community.