The

Bahá'í

Community of Milton, Ontario is part of a regional, national and global community established in more than 330 countries and
territories
around the world.
(more)
DIVERSITY is a Strength
UNITY is a Choice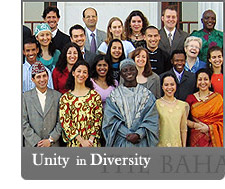 We invite you to join us for activities and events designed to educate and enlighten, enrich and inspire, entertain and inform. Discover what gives Bahá'ís hope in an age when humanity struggles to embrace its fundamental unity. (more)
Education Programs that promote virtues, encourage service to others, and develop a global consciousness.
Nuture your spirit and rejuvenate your soul in devotional gatherings that explore the power of Scripture.
Chats and Discussion Groups
Independent Investigation of Truth is a primary Baha'i principle as there are no clergy in the Baha'i Faith, so we invite you, through informal "Fireside" chats, or larger focused discussion groups, to examine Bahá'í teachings on topics that interest you and are relevant to the world around you.
Share with us the celebration and commemoration of special events in the history of our Faith and our community. Our Holy Days are open to people of all Faiths and none.

Programmed group study through "Ruhi" courses are designed to enhance both personal development and community transformation.
Learn what World Religions have in common like the Golden Rule and the Green Rule. Since 1950, Baha'i communities around the world have hosted World Religion Day in January. In the western GTA, it is rotated annually amongst the municipalities in and around Halton. In 2018, it was hosted by Burlington Baha'is.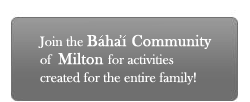 Devotional Gatherings

Discussion Groups

Holy Day Commemorations

Study Groups
WORLD RELIGION DAY
was on January 21, 2018 at the Burlington Central Library on New St west of Guelph Line. This free event had speakers from different faiths as well as discussion and time for refreshments & socializing. There was a talk on the worldwide interfaith movement with information on the United Nation's World Interfaith Harmony Week in February, plus Toronto's Parliament of the World's Religions in November, 2018 when over 10,000 people are expected in the world's most diverse city for the world's biggest interfaith conference.
Our Global Community
Take a look at the many service activities Bahá'ís around the world are pursuing including social and economic development projects, education initiatives and work at the United Nations.
WORLD RELIGION DAY - Milton January 17th, 2016. From left to right, representatives of the Zoroastrian, Hindu, Sikh, Baha'i, Christian and Muslim faiths beside The Golden Rule poster from Toronto's Scarboro Missions.